På en søndag kveld er det sikkert mange med meg som sitter skuffet igjen etter helgens Tippeliga- eller Premier Leaguerunde og tenker at alt hadde sett annerledes ut hvis laget vårt bare hadde fugt Slades oppfordring:
Stop your fancy footwork now and give us a goal!
Videoen ble skutt på The Goldstone Ground football stadium, hjemmebanen til Brighton & Hove Albion F.C. fra 1902 and 1997, i forbindelse med Albion's hjemmekamp mot Burnley.
Men var Slade fotballsupportere? Ikke egentlig. Da Wolverhamptonbandet Ambrose Slade kuttet navnet til bare Slade, kuttet de håret også. Fotball- og skinheadkulturen var såpass populær rundt 1969 at selv et rockeband som Slade for en stund adopterte stilen i håp om økt oppmerksomhet. Men fotballinteressen var mest kosmetisk.
Slade som skins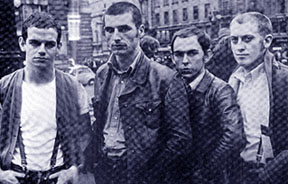 Slade som vi kjenner dem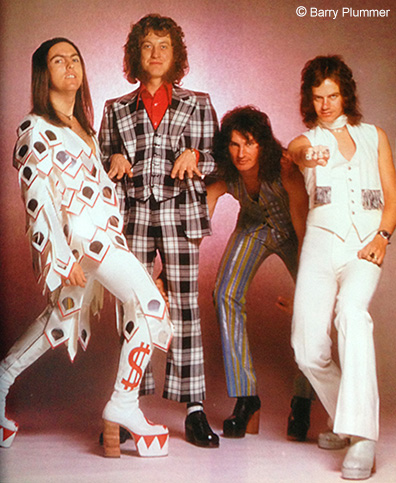 Noddy har sagt i et intervju at:
"The football thing just started accidentally at one gig when they started singing on their own. We've always done this football thing, asking them what team they support and asking for the local chant. One night they just started singing" You'll Never Walk Alone.' We stood there and the audience took over. It was tremendous. We've kept it in ever since. It was the audience's idea not ours.
I watch it on the TV but don't go to matches. I used to watch Walsall and Wolverhampton when I was a kid, but I don't have time now.
The whole aura of it fascinates me. I saw a clip of some Liverpool supporters at Wembley singing 'You'll Never Walk Alone' with all their scarves up, and it knocked me out. Just like one of our gigs.
I'm sure that we appeal to the kids that go to football matches. They support us and they support Slade. I'm sure at least 75 per cent of our fans are football fans.
We get letters from, say Liverpool, which say All we live for is Slade and Liverpool Football Club. Or it might be Slade and Sheffield United, or Slade and Birmingham, or Slade and Spurs."